Vivid Collage
Create your own personal collages of photos, text, and sketches on your iPhone, iPod touch, and iPad.
Select a suitable background. Insert photos from your photo album, text, sketches, or stickers and scale, rotate, and position them freely on the canvas, until you find the right layout. You can even apply perspective and warping effects, or select specific frames for photos.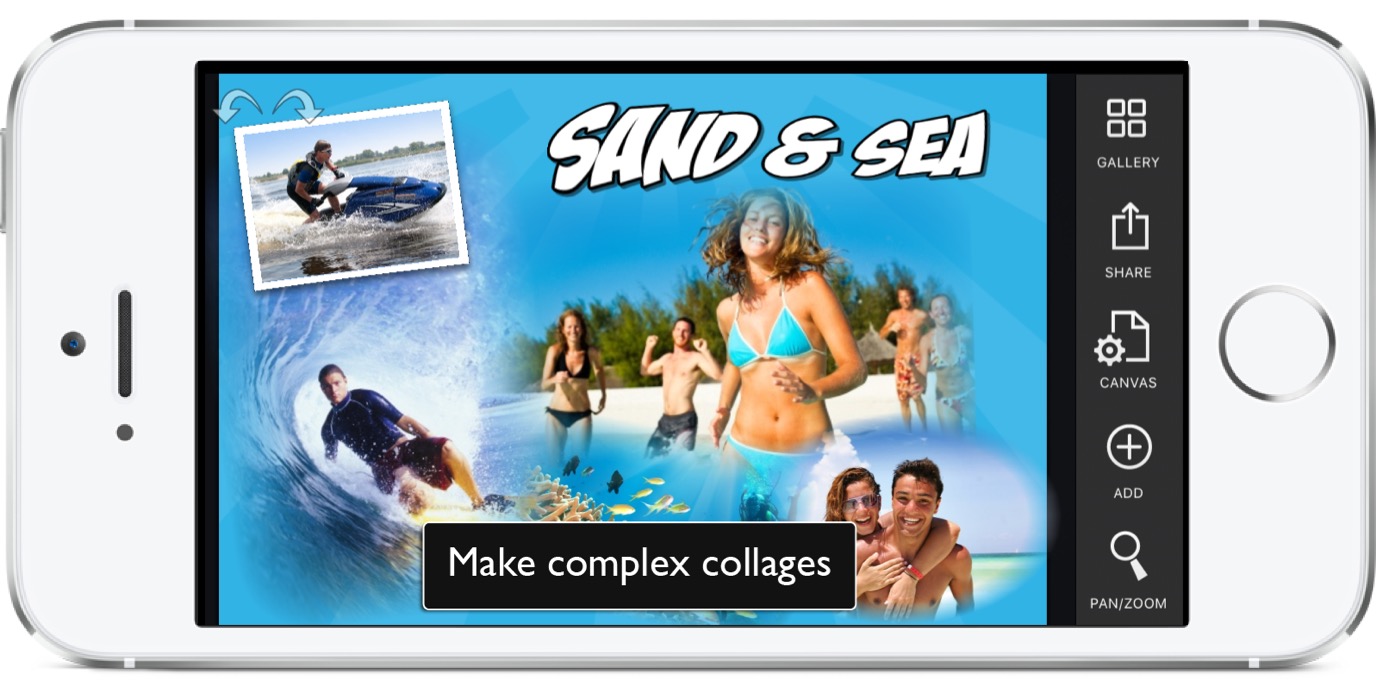 Photos
Select your favorite photos from your photo album. With Vivid Collage you can add more than 10 photos to your collage. You can apply a large amount of effects to each photo.
Masking and painting: You can paint on each photo and mask out parts using your fingers.
Filters: Vivid Collage contains a set of basic photos filters that can be applied
Frames: You can frame each photo using a variety of different frames
Perspective and warp: You can apply perspective and warp effects to each photo
Reflections: You can create reflection effects beneath the photos
Text
Text can be positioned and sized freely. You can select from the built-in fonts on your iPhone or iPad. Just as with photos, you apply perspective, warp, and reflection effects to texts.
Sketches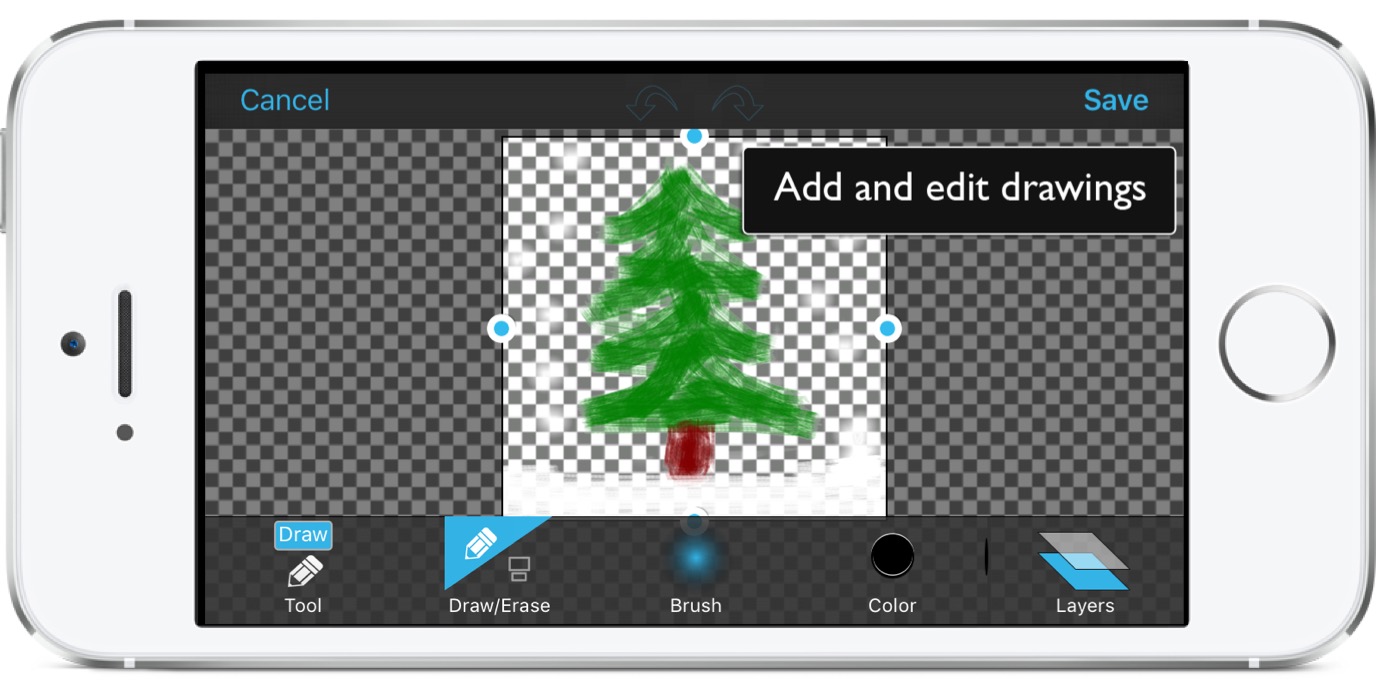 You can insert blank sketches that can be edited with the masking and brush tools just like photos. You can use this to create sketches with different colors or transparent backgrounds. Just as with photos, you apply perspective, warp, and reflection effects to sketches.
Stickers
Vivid Collage also contains a variety of built-in symbols (stickers), that can be positioned anywhere on the canvas. Choose from beach, desert, fruit, exclamation, love, or mustache symbols to spice up your collage.
Pan and zoom
Because the iPhone has a small screen and you should always be able to edit details, Vivid Collage enables you to freely zoom and pan. Simply tap the "magnifying glass" button to enter and exit this mode.
Once you are in pan-and-zoom-mode you can pinch to zoom in on specific areas of the collage. You can also drag the collage to pan towards a different part of the collage. We have pushed the iPhone to its limits so everything is smooth as a knife through butter.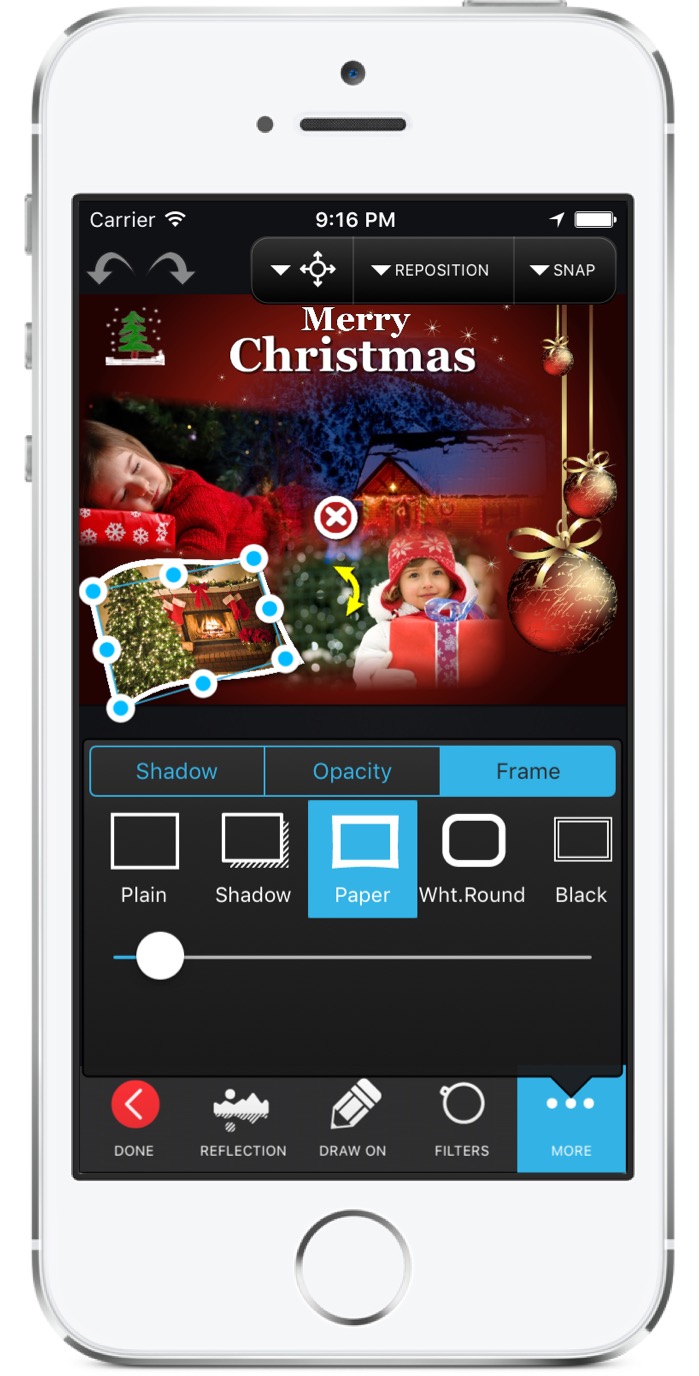 Landscape and Portrait
Because editing can sometimes be easier in landscape mode, you able to switch between landscape and portrait mode, simply by rotating the screen. The on-screen collage and the buttons at the bottom of the screen will rotate to fit with the new orientation.
Sharing
You can of course save your collages to the photo album, but Vivid Collage allows you to share your masterpieces in several other ways. In addition to emailing, Vivid Collage has built-in upload support for Flickr, Facebook, and Twitter. Just fill in the relevant account details for each service and upload, so that every one of your friends can see your latest creation.